STEM CELL RESEARCH AND THERAPY CENTRE, HAMBURG
Find out more about stem cell therapy for osteoarthritis of the knee and how Sporthopaedic Hamburg can help you to relieve your pain and improve your mobility.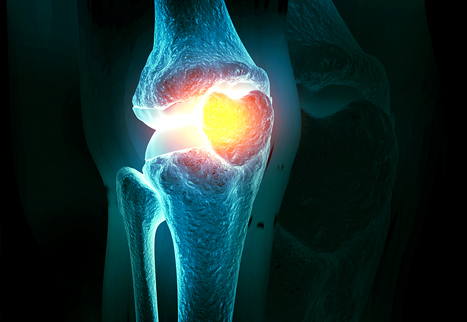 What is osteoarthritis of the knee?
Osteoarthritis of the knee is extensive wear and tear of the joint cartilage. Joint cartilage is practically the tyre on the wheel rim; if it is missing, the joint no longer glides well and is no longer cushioned. This leads to pain, stiffness, swelling and severe restriction in all activities. Such wear can affect the entire joint or only individual areas. If the pain becomes too severe, many orthopaedic surgeons recommend a total or partial joint surface replacement.
Characteristics of osteoarthritis of the knee

Osteoarthritis of the knee displays three classic characteristics:

Morning stiffness (significant restriction of movement in the morning)
Pain when taking the first few steps (it takes you 10 steps to be able to walk)
Exercise-induced pain (pain increases significantly after walking for approx. 30 minutes)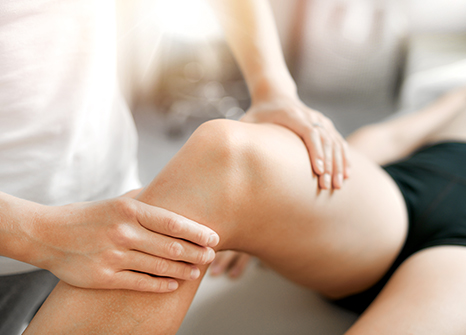 How does stem cell therapy work for osteoarthritis of the knee?
Stem cell therapy has the aim of rebuilding the damaged cartilage layer of the joint. Stem cells have the ability to transform into any tissue in the body, depending on the requirements. This means that ideally, the stem cell enters a diseased knee and transforms itself into the cells that make it healthy again, and sustainably so.
Stem cells
The pluripotent stem cell can multiply in almost all types of tissue and develop into cartilage tissue, among other things. This realisation led to the idea of treating cartilage loss with stem cells. Until now, introducing an efficient number of stem cells into the joint has been a major problem.
Legal regulations prohibit the use of "cultivated" or enzymatically/chemically treated stem cells in Germany. With the Stoma Vascular Fraction (SVF), Arthrex has succeeded in physically generating very large quantities of stem cells from subcutaneous fatty tissue and injecting them into the target tissue of the Hoffa's fat pad below the kneecap.
Procedure
Stem cell implantation is an outpatient procedure that takes around 45 minutes. Fasting is not required, as only minor local anaesthesia is used.
First, around 30-40 ml of fat is suctioned from the abdomen under strictly sterile surgical conditions.
This fat is then filtered and centrifuged several times so that millions of stem cells remain (there are almost 200 times as many stem cells in subcutaneous fatty tissue as in bone marrow!).
These stem cells are then injected back into the affected knee joint (or other affected joints) along with the patient's blood plasma, again under strictly sterile conditions.
The knee joint is then actively moved on a motion splint so that the stem cells can develop into the desired cartilage cells and a cartilage layer can form.
You can leave the medical practice about an hour later – without crutches! After liposuction, it is recommended that you take it easy for three days. A sick note is not absolutely necessary for office work.
After three days, you can and should resume sports activities.
Further check-ups can also be carried out by your GP or orthopaedic surgeon. But it goes without saying that you can also arrange further appointments with us.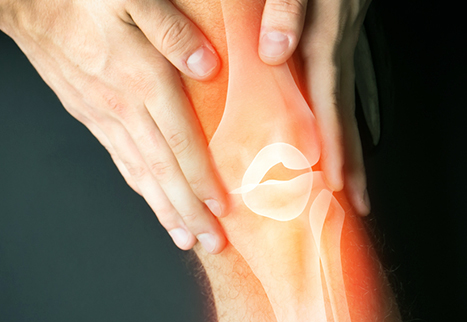 Advantages
Stem cell therapy for osteoarthritis of the knee offers a range of advantages, including:
Pain relief: stem cell therapy can help to reduce pain in the knee joint.
Improved joint function: by stimulating the growth of new articular cartilage cells, the function of the knee joint can be improved.
Avoiding joint replacement surgery: stem cell therapy can avoid or delay joint replacement surgery by helping to repair the degenerative changes in the knee joint.
Minimal-invasive treatment: stem cell therapy is a minimal-invasive treatment which is generally performed without open surgery.
Faster recovery: stem cell therapy generally involves a shorter recovery time compared to joint replacement surgery.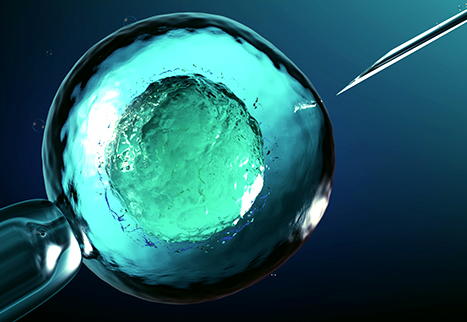 To summarise, stem cell injections mean:
No surgery!
No hospitalisation!
Swift return to everyday activities / fitness for sport
Outpatient procedure of approx. 45 min
Preservation of the patient's own joint
Single procedure
How does stem cell therapy for osteoarthritis of the knee work at Sporthopaedic Hamburg?
Appointment 1:
The first step is a comprehensive assessment of the clinical picture with a detailed examination and a review of all existing x-ray / MRI / CT images. You should allow about one hour for this.
Appointment 2:
For your second appointment, you will come to our medical practice (you do not need to have fasted), loose-fitting sportswear is an advantage. After a local anaesthetic on the abdomen, liposuction is then carried out to obtain approx. 30-40 ml of fat. This fat is then filtered and centrifuged several times so that the stem cells can be injected into the affected joint in a sterile syringe. It is possible to treat several joints in a single session. At the end of the therapy session, you may stand up under supervision and leave the medical practice after approx. 15 minutes if you feel well.
Aftercare and follow-up treatment
Stem cells have the ability to transform into any type of cell, as required. In the case of leukaemia, for example, they develop into healthy white blood cells; in the case of defective cartilage, they develop into healthy cartilage. After successful stem cell therapy, supportive physical and physiotherapeutic therapy should be carried out over a period of six weeks. A follow-up MRI scan should be carried out after one year to show that a layer of cartilage has grown again.
Die Behandlungsmethode
This treatment method is by far the most innovative therapy for treating osteoarthritis of the knee. As it involves the patient's own stem cells, there are NO side effects and there is only the risk of infection as with any injection. According to the RKI (Robert Koch Institute), this risk for joints is between 1:25,000 and 1:50,000.
(Federal Health Bulletin 2011 · 54:1135–1144, DOI 10.1007/s00103-011-1352-8© Springer-Verlag 2011)
Success rate
The success rate in studies currently available is very promising, but depends very much on the individual patient's starting position.
Research and therapy centre
As a research and therapy centre, we conduct studies on stem cell therapy on behalf of the Federal Ministry of Education and Research. Please feel free to contact us regarding participation in such a study.
Sprechen Sie uns gerne bezüglich einer Teilnahme an einer solchen Studie an.
Successful stem cell therapy treatment for osteoarthritis of the knee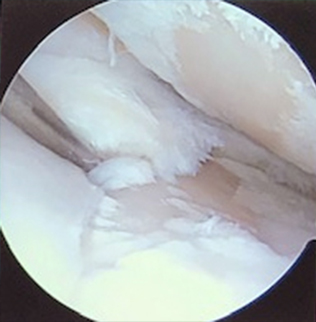 Extensive grade 4 cartilage damage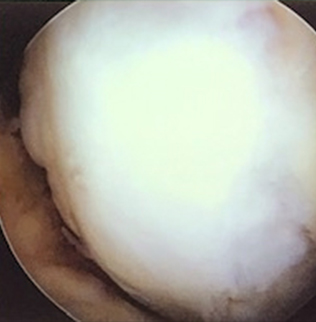 18 months after a stem cell injection

Images kindly provided by Prof. Dr med. Gerald Zimmermann
Costs
As we work at the highest scientific level and according to the strictest sterility standards, we charge €3,900 for stem cell transplantation into a joint with infusion, liposuction, preparation and transplantation.
Some progressive private health insurance companies cover a portion of this amount. We will be happy to support you with treatment explanations and the latest literature. You must assert your claim for reimbursement yourself with your insurance company.
You are welcome to find out more during a personal appointment in our private consultation. For those with statutory health insurance or self-payers, this involves costs of approx. €120 depending on the scope (review of your doctors' letters, old x-ray, MRI and CT images, examination, ultrasound).
Certificate for the research and development project

We are taking part in the following study sponsored by the BSFZ (Bescheinigungsstelle Forschungszulage – Certification body for research grants):

We are taking part in the following study sponsored by the BSFZ (Bescheinigungsstelle Forschungszulage – Certification body for research grants):
A. Certification in accordance with § 6 Research Grants Act (FZulG) in conjunction with § 5 Research Grants Certificate Ordinance (FZulBV) is awarded for the following research and development project, for which the requirements of § 2 (1-3) FZulG are met:
Consec. no. 651-241-121/2022-1/1
Brief description
Development of a 3-pillar concept consisting of movement, collagen and stem cell therapy as well as disruptive imaging procedures for the long-term avoidance of knee arthroplasty